Advanced Troubleshooting Steps for Adobe Applications
· The University of Illinois Adobe Enterprise plan is licensed using the Named User model, otherwise referred to as a continuous or subscription-based customer.  Sign in using the University of Ilinois 2 factor authentication and a valid school email address is required to use Adobe apps. Most licensing errors are caused by improper login procedures, or applications that are out of date. Adobe does not require users to sign out of their account unless there is a change. The Creative Cloud Desktop app controls and manages the sign-in process and is installed with any application that is downloaded to a user's computer. Therefore, if you are experiencing issues with an Adobe program, remember to look at Creative Cloud desktop that usually runs as a background process.
Personal Computers
This article assumes that the reader has already been through the Basic Troubleshooting for Adobe. If you have reached this article without going through the First Steps for All Users, please review that article first!
Personal Computers
Personal computers are not subject to the same administrative restrictions as university-owned computers. Users may install their own software at will.
How to fix Creative Cloud and Acrobat errors including the Serial Number Error
1. For Adobe programs that are NOT ACROBAT related, skip to Step 4.
2.  For persistent Acrobat DC Pro errors, download and run this Acrobat Cleaner Tool. Follow the link below and choose AcroCleaner from the left side menu.
https://www.adobe.com/devnet-docs/acrobatetk/tools/Labs/cleaner.html
3. Restart the computer
4. Open and sign out of the Creative Cloud Desktop App.
5. Quit the Creative Cloud Desktop App.
6. Next, reopen the Creative Cloud Desktop App and sign in again. Reinstall Acrobat from within the Creative Cloud desktop or from a browser after logging into your Adobe.com account. If the install is successful you are done.
7. (Optional download method) If you have trouble downloading and installing a new version of Acrobat, email webstore@illinois.edu and request a temporary link to an Acrobat SelfService package. Please specify whether your computer is a Windows or Mac machine. This will provide you with a clean and up-to-date version of the Creative Cloud desktop app and Acrobat.
Extract all from the .zip file and run setup.exe from inside the Build folder.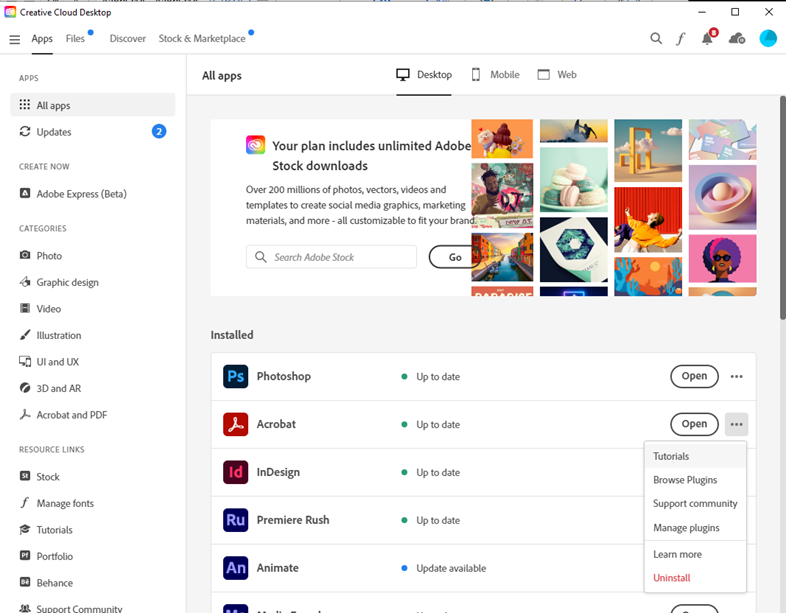 8. Restart the computer
9. Open the Adobe Creative Cloud Desktop app (CC App) and sign back in. A list of apps should now appear on the apps tab without a free trial but to install, open or update. A new version of Acrobat DC Pro will be installed which should open without asking for a serial number. You can now install other apps through the Creative Cloud Desktop App.

University Computers
University computers are subject to administrative restrictions. Most users may not install their own software at will. Many University departments are subscribed to Managed Software Services provided by End Point Services (EPS). If EPS manages software on the computer, then there is an application called Managed Software Center (for Mac) or Software Center (for PC) that users will install their Adobe software from. Users will get a message "You don't have access to manage apps" from the Apps tab on their Adobe account or Creative Cloud Desktop app. This message is to be expected and is normal for university-owned computers with admin restrictions.
To get access to your Adobe apps, proceed to Step 1 below.
If you are experiencing an error with Acrobat asking you for a serial number and you do NOT have administrative rights to install software on your computer, you must ask your department IT to assist you with uninstalling and reinstalling Acrobat. (Instructions for IT Pros to reinstall Acrobat are also on this guide.) If you have a University computer and you DO have administrative rights to install software, please follow the procedure above in the section for Personal computers.
How to get access to your Adobe Apps when you don't have access to manage apps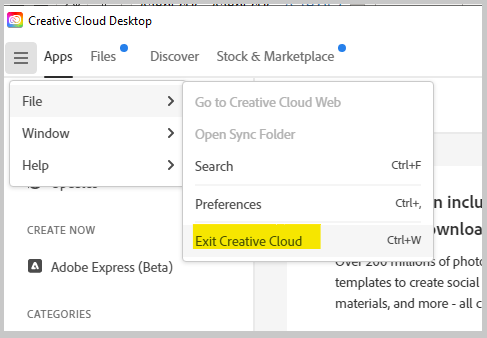 1. On Windows PC, open Software Center from the Apps Menu. On Mac computers, open the Applications folder and look for "Managed Software Center".

2. Select the Applications tab in the Software Center to view your available apps. The apps you have available will depend on the menu of options that were selected by your department IT. If the Adobe app that you want is not in the list, contact your department IT with a request for the app. The standard University Enterprise Adobe All Apps plan includes all the Creative Cloud apps with the license.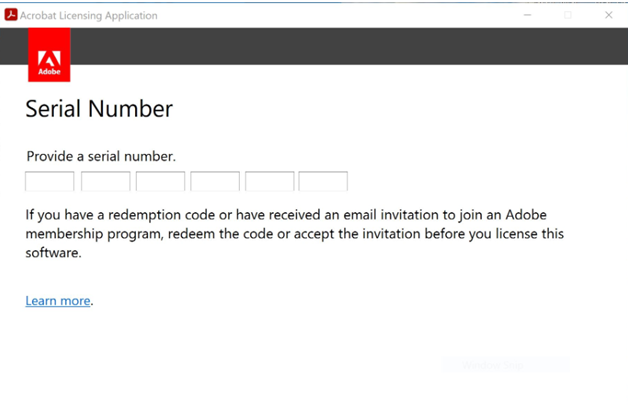 3. Select an Adobe App to install to your university computer.
4. There is a documented work around to get your Apps to show up in Creative Cloud, which will work temporarily until an update is pushed out by EPS. If you have administrative rights to install software on the machine, you can use this as a quick fix to get the program you want.
Adobe Creative Cloud - Apps Panel Access Denied (uillinois.edu)
5. If the Adobe program that you wish is install is not in the Apps section of the Software Center, or you cannot find Software Center on the computer, you will need to request assistance with your department IT staff to install the programs on your machine.
IT Pros assisting users with Adobe
University computers with EPS Adobe software have the option to "Allow non-admins to update and install apps" disabled. Therefore, Adobe apps can become out of date and stop working if IT or EPS does not manage updates to the apps. When an Adobe app stops working, the user is automatically signed out of Adobe and must sign in again. Often this happens infrequently so you must educate users on how to correctly sign into Adobe again, using an up-to-date Creative Cloud Desktop app. Please refer them to the Basic Troubleshooting steps for Adobe for this information.
1. Important! Which package—Self-Service or non Self-Service? If you have determined you need to reinstall the Adobe software on the computer, first determine if the computer privileges allow the end user to install their own software on the machine.
If YES—download the new package directly from the Creative Cloud Desktop app, or the customer's Adobe account from a browser window.
If NO---download the Acrobat package either from the EPS Software Center app or from a WebStore IT Pro NU or SDL package.
2. For managed computers with admin restrictions, downloads for Adobe apps are available either through the Software Center app from EPS or from the WebStore Adobe IT pros NU and SDL offers.
The Webstore IT Pro offers have up-to-date versions of the complete Creative Cloud Suite of apps. Each app is individually packaged and comes with the Creative Cloud desktop. Please be aware these packages have the Self-Service option disabled so customers cannot install or update this software on their own.
(There is also a Creative Cloud Desktop self-service package available in the NU offer that will allow users to install their own software from Adobe.) If the computer subscribes to Endpoint Services MECM software management, please check with EPS first to see if this self-service package is compatible.
NU SelfService CC
3. Important! Please note that the application install alone does not give the user full access to the software. For NU packages, all users must also claim or purchase an Adobe license from their own WebStore account since Adobe software is associated with the end user ID.
4. For Shared Device Licenses, Faculty and Staff users must have a WebStore Adobe subscription to sign into Adobe and use the apps. However, students do NOT need a WebStore Adobe subscription since they are automatically registered with a free Adobe Creative Cloud Express license which allows them use SDL packaged apps. Shared Device Licenses must be installed on university owned computers.
5. If you need to reinstall Acrobat, use the AcroCleaner tool to completely remove Acrobat from the machine and follow the steps below before installing the new package:
https://www.adobe.com/devnet-docs/acrobatetk/tools/Labs/cleaner.html
1. Install and run AcroCleaner
2. Restart the computer
3. Open and sign out of the Creative Cloud Desktop App.
4. Quit the Creative Cloud Desktop App.
5. Extract and install the new package (Check to confirm if the package should be Self Service or non-Self Service)
6. Restart the computer
The user can verify the app is working after opening the App through Creative Cloud Desktop and logging into their Creative Cloud account.
6. If you suspect it is necessary to reinstall Creative Cloud Desktop- Adobe has the following guide:
https://helpx.adobe.com/creative-cloud/help/uninstall-creative-cloud-desktop-app.html
7. If the issue is not resolved by reinstalling the app and you have not found the solution, contact the WebStore for assistance. WebStore can provide custom packages, troubleshooting and escalate a ticket to Adobe if necessary. A coding issue will need a complete log collected from the machine that is having the error. The log can be collected using the Adobe Log Collection Tool. https://helpx.adobe.com/creative-cloud/kb/cc-log-collector.html
For more resources on renewing your Adobe license, using Adobe Creative Cloud, Adobe Acrobat and Adobe Creative Cloud Troubleshooting, please see the links below.