Adobe Enterprise Login and Product Installation Instructions
Shortcuts
Adobe subscriptions are normally activated within 1-2 hours of checkout.
Your Adobe apps are not accessible until your subscription is activated.
Please do NOT try to access your Adobe apps before waiting the minimum period for activation.
1. Navigate to the Adobe website, adobe.com. Click on Sign in in the top right.
2. Enter your university email address into the Email Address field and press Enter.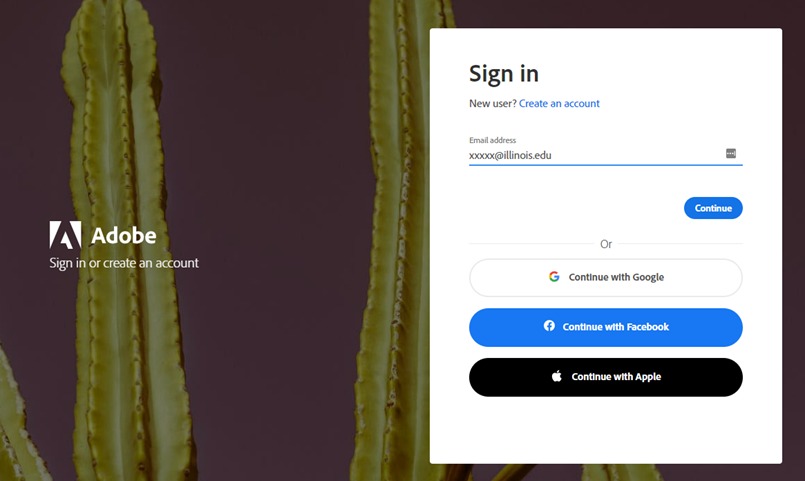 3. You will be redirected to the University Authentication Gateway. Enter your NetID and AD password and click Login.
4. You will return to the Adobe site. Click on All Apps on the left menu and Desktop on the tabs above
5. Select the appropriate app that you would like install. In this case, we will be installing Photoshop. Click on the Install button. The Apps will display the Install progress.
6. You will get a notification when Photoshop is installed. Now you can open and use Photoshop.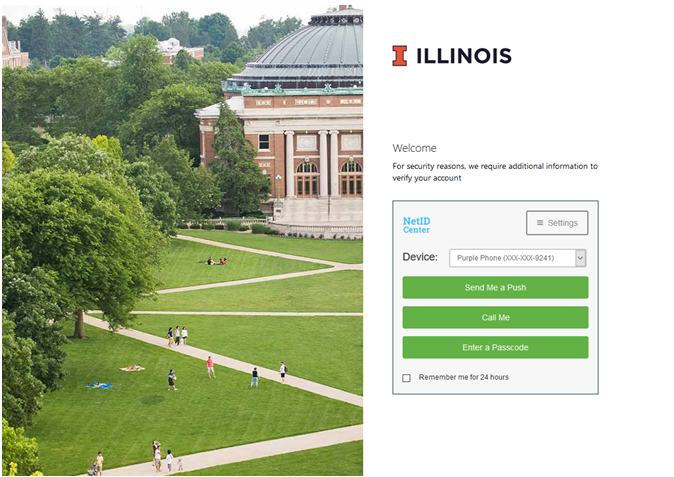 7. The Creative Cloud Desktop app will download and install along with your first Adobe app. It will run in the background on your computer. You can find it along with your other installed Adobe apps in your Apps menu
8. When you need to sign in and sign out, open, or quit Adobe apps on your desktop, you should use the Creative Cloud Desktop App, instead of the Adobe.com browser Web App. It also gives you the option to install your apps from your desktop without opening your browser.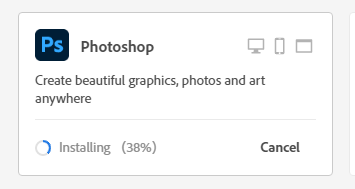 9. If you need to exit/quit Creative Cloud, you can do so by opening the app and selecting Exit App from the File menu tab.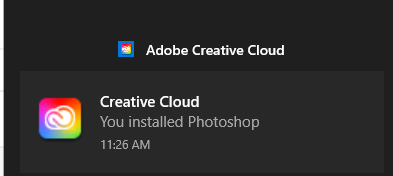 10. People with university owned computers with Managed Software Services will get a message when they open Creative Cloud Desktop or when they login to your Adobe.com account that "You don't have access to manage apps." This is normal and expected behavior.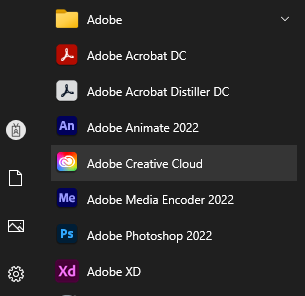 11. You can download and install your Adobe apps from your app called Managed Software Center instead. Often people with university owned computers do not have admin rights to install software on the computer, except from the Managed Software Center.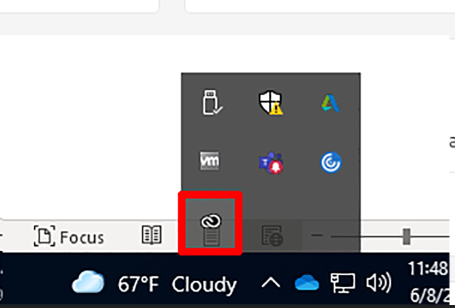 12. If you think you should be able to manage Adobe Apps on your computer, please see the Advanced Adobe Troubleshooting article's section on University Computers.
For more resources on renewing your Adobe license, using Adobe Creative Cloud, Adobe Acrobat and Adobe Creative Cloud Troubleshooting, please see the links below.