FileMaker Pro 19 Installation Instructions
1. Download the .exe and the certificate file from your order history page for FileMaker Pro 19.  Please choose or create a file to hold these files as you will not be able to move the Certificate file once you've installed.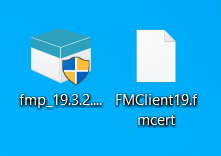 2. Right click on the .exe file and choose 'Run as Administrator'.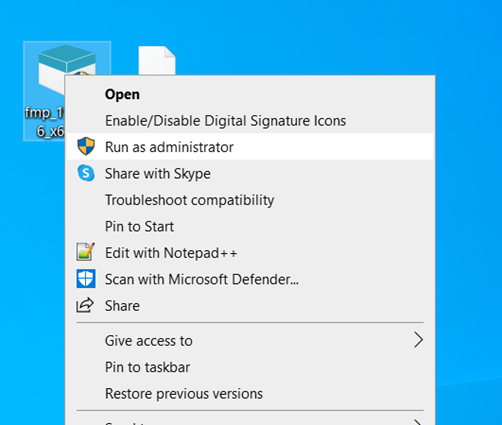 3. FileMaker Pro will extract the needed install files.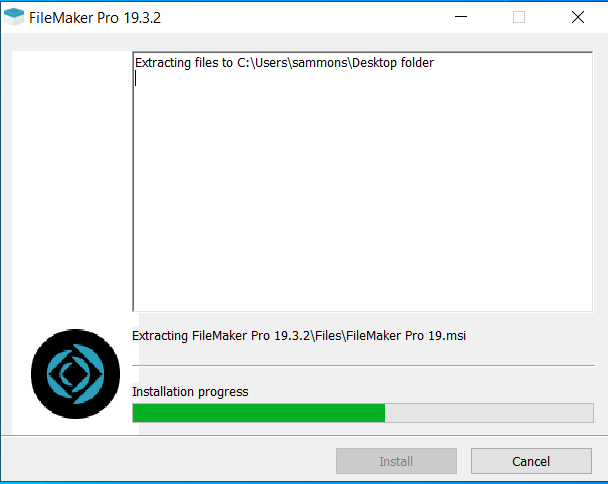 4. Select your preferred language to read and type in.  The default is English.
5. You may need additional files.  If so, just click Next.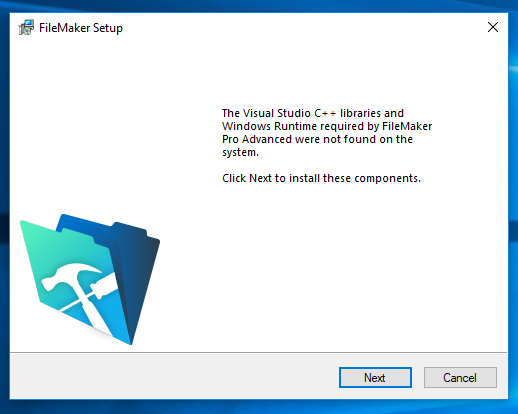 6. FileMaker Pro 19 will install any missing files that it needs.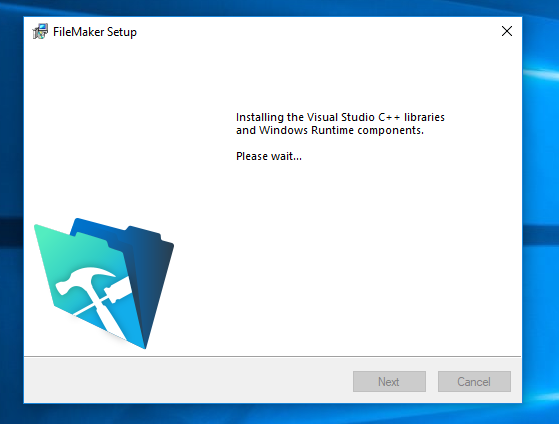 7. If you did not need extra files or when your extra files are done installing, click Next.
8. Select License Certificate and click Browse for Certificate.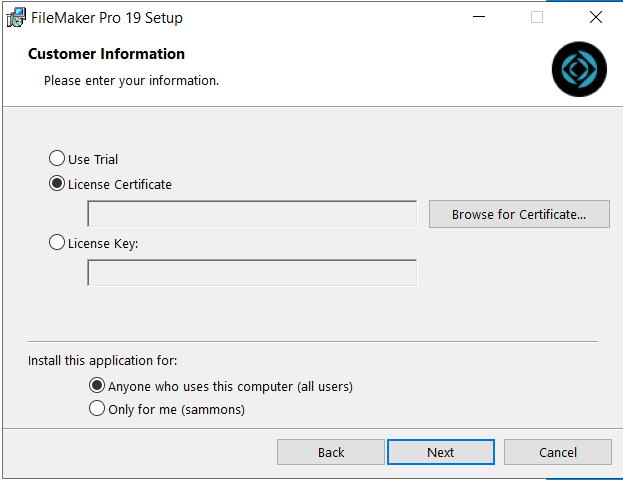 Choose the file in which you located your Certification file from Step One.
Click open.
9. Your certificate number should show up now and you can click Next.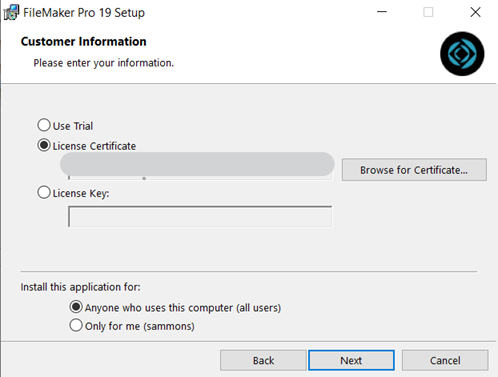 10. Choose an install directory.  WebStore strongly suggests that you use the default settings unless you are positive you know what you are doing.
11. Again, unless you are aware of what you are doing, choose Complete and click Next.
12. You may select where to place shortcuts.  The Desktop shortcut requires a double click and the task bar a single.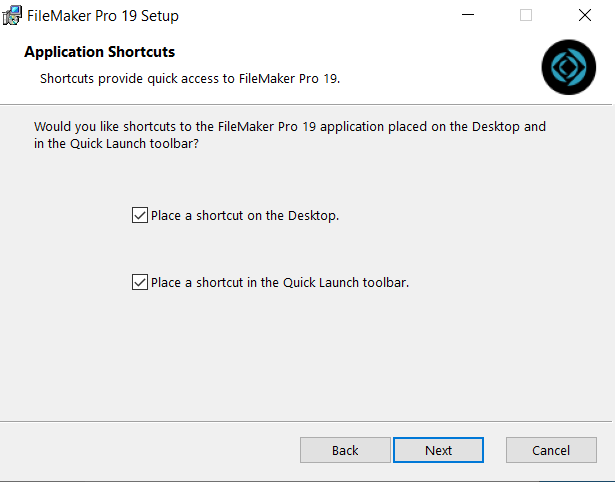 13. You are now ready to install FileMaker Pro 19.  Click Install.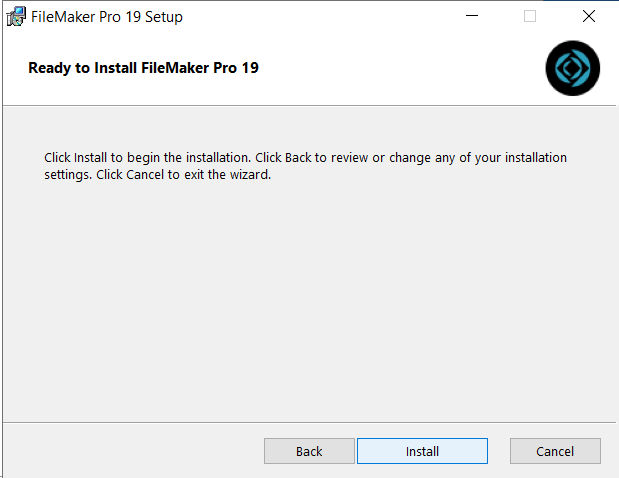 14.  Your install should now begin.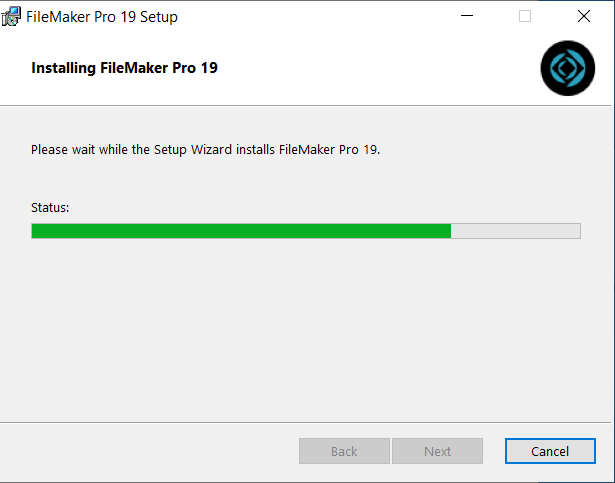 15. When your install finishes click Finish but you're not quite done.
16.   You may run into this.  Click Next.  This is a necessary install and FileMaker Pro 19 will not run without this install.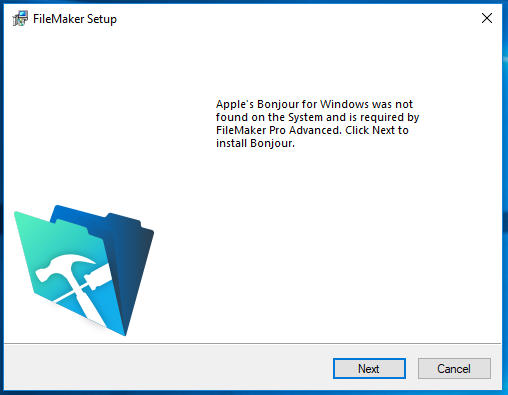 17.  The Bonjour Installer will start.  Click Next.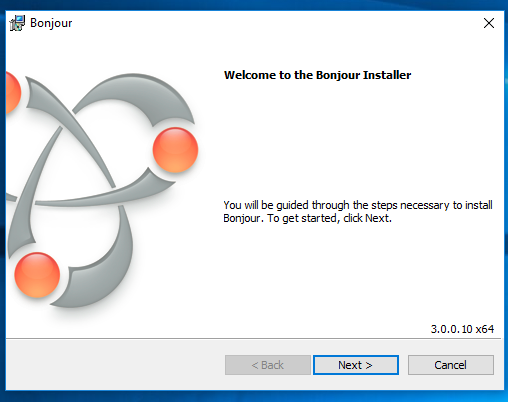 18.  This is the EULA for Bonjour and NOT FileMaker Pro 19.  That comes later.  Click Next.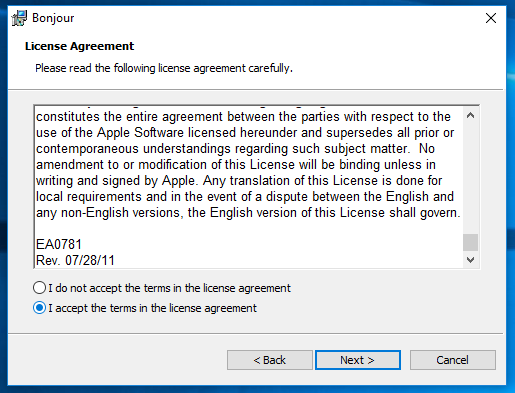 19. This contains useful information about Bonjour including the System Requirements.  Make sure you meet the minimums and click Install.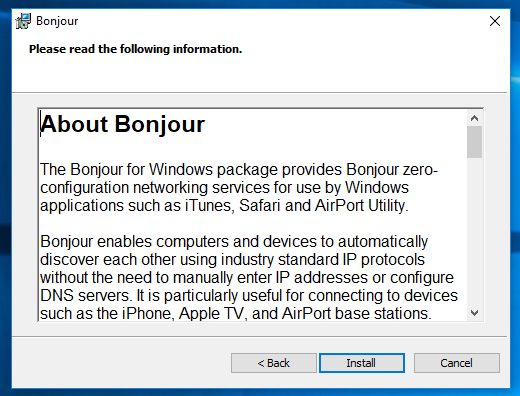 20. Bonjour will install.  This should be a quick install depending upon your machine and internet connection.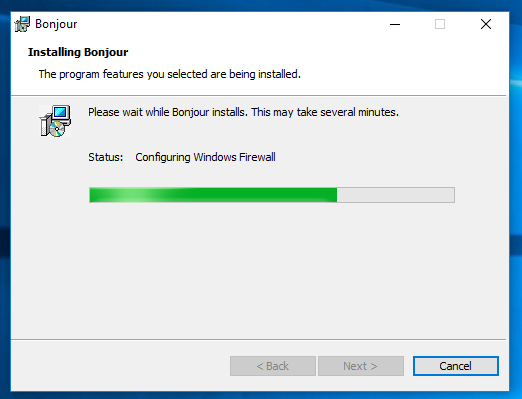 21. Click Finish and launch FileMaker Pro 19 from either your Desktop Icon, start menu or Task Bar Icon.
22. This is the Final EULA for FileMaker Pro 19.  Give it a read and then click the square in the lower left to accept and then click Accept in the lower right.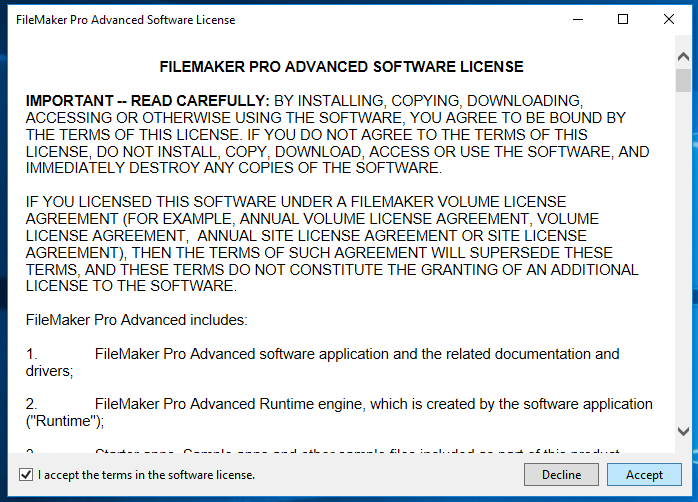 23. You may be asked to make a firewall exception.  Click the square next to Private networks, such as my home or work network, then click Allow Access.
You should now be using a fully licensed version of FileMaker Pro 19.  Congratulations.
 Mac
The process for the installing the FileMaker Pro 19 for Mac should be the same as for the earlier version. Please proceed to follow the instructions for installing FileMaker Pro 18 for both versions.
1. Download both the .dmg file and the. fmcert file from your Order History page for FileMaker Pro.  Double click the .dmg file.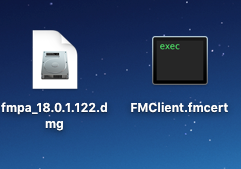 1. The file will open and place a disk image called FileMaker Pro 18 on your desktop. Double click the down arrow to begin.
2. The installer will open. Click on Continue.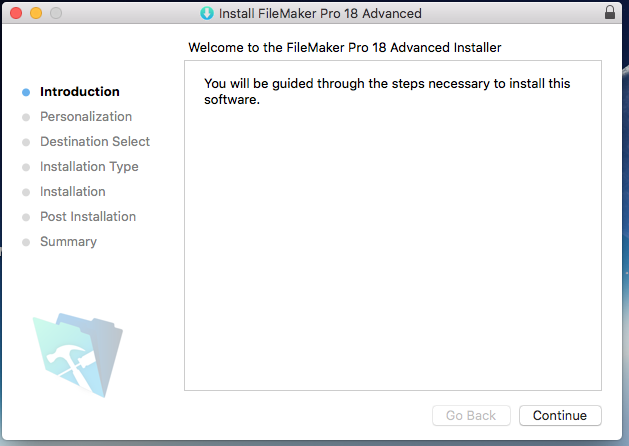 3. Click the radial button next to License Certificate and then click Browse for Certificate.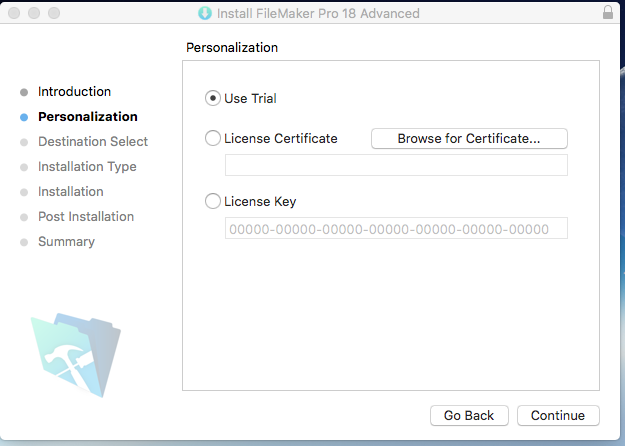 Find the location in which you placed the .fmcert file.  Highlight the .fmcert file and click open.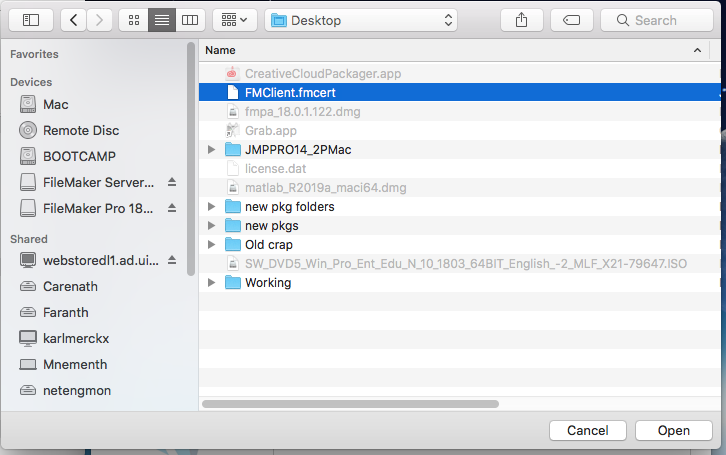 Click Continue.  Your Cert may differ.
4. Last chance to change anything and click Install.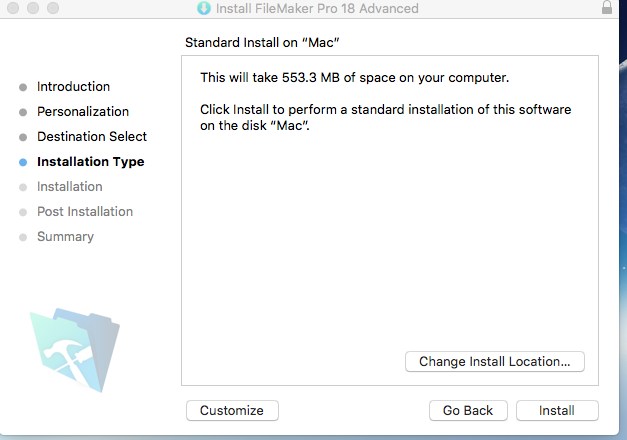 5. The installation will begin and may take several minutes.
6. When the install has finished click Close and open FileMake Pro 18.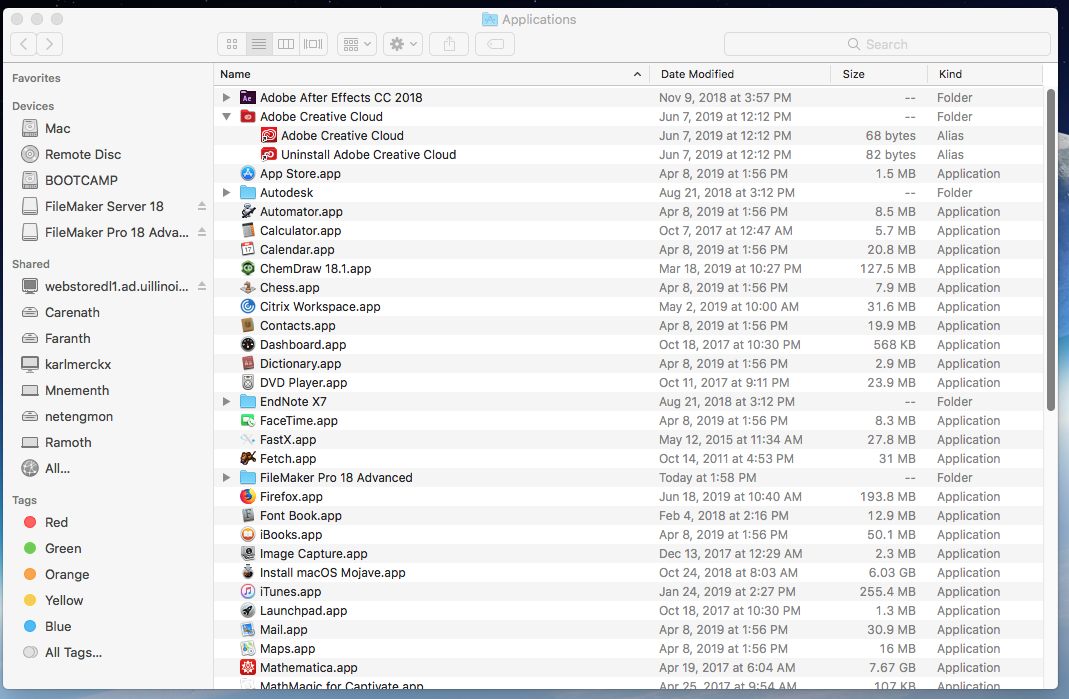 7. Read through the FileMaker Pro 18 EULA and click the square next to I accept… then click Accept.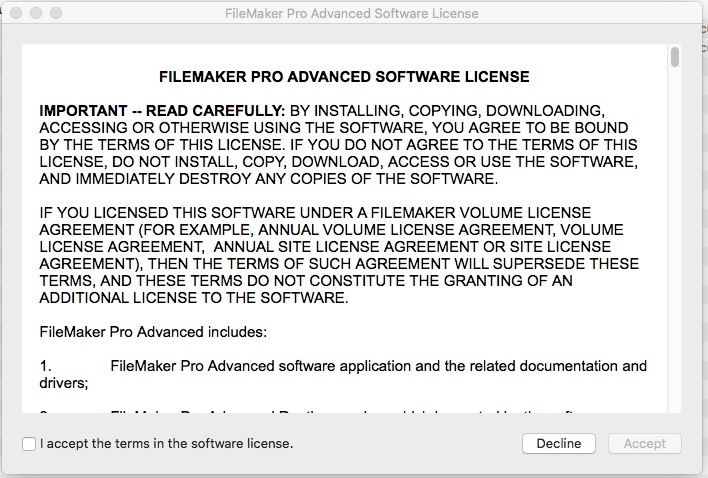 You are now ready to use FileMaker Pro 18 for Mac.